Education about Propeller Injury - Preventing Propeller Accidents
Swimmers and Skiers can be Severely Cut
Contact can result in Amputation or Death
Always stop engine and put in gear before swimming
to prevent any propeller movement
IT IS WHAT YOU KNOW....sometimes
Know what propels your boat. As in CO deaths, what you cannot see can harm you. Show ALL your passengers where the propeller is located. Indicate the location with bold warning labels.
Locate the propeller in relationship to the boarding ladder.
Know that a 13" propeller blade can travel from head to toe on an average person in less than one tenth of a second. Or, cause 16 chopping lacerations in one tenth of a second. The rotational force of the propeller tip, exerts more force than the average body weight.
Know that once you are in the way of the spinning propeller, it is no longer what you know; it is too late. If it were all about what a great boatsman you think you are, we wouldn't have horrific accidents recorded by the Marine Corp, the Seals, the World Sailing Cup, competitive swimmers and professional fishermen.
Know that too many children die of this accident or are disfigured for life. Your children are supposed to outlive you. In the summer of 2004, more than 50% of the deaths/injuries by propeller, available to SPIN research, were children 17 and under.
WHO IS AT RISK?
Experienced and inexperienced. Old and young. EVERYONE! The propeller has NO conscience.
Choice is eliminated once you are caught either in the start-up pull or the propeller churn or the death circle. Few escape injury, dismemberment or death.
IT'S ALL YOUR FAULT
If you believe this, we have a 3000 pound bass to sell you. SPIN (STOP PROPELLER INJURIES NOW! www.spin-site.org) endorses safety technologies and mandatory education. Safety is not a blame game. Individuals should not accept all the blame. Many of these accidents are due to lack of basic boating skills which should be mandatory, not suggested. Get an education! but make certain that EDUCATION is a requirement at the point of rental and in every marina in your state.
Marine Manufacturers need to take responsibility. SPIN takes great exception to the fact that no major marine manufacturer has stepped forward to protect the boating public from propeller strikes.
Every industry, except the marine manufacturers, acknowledges safety technology is more reliable than human behavior.
FIRST LINE OF DEFENSE - SAFETY TECHNOLOGIES
WHAT TECHNOLOGIES CAN PROTECT US AGAINST A PROPELLER STRIKE?
Propeller guards, as applicable to type of vessel and environment.
Ladder interlock kill switches, to prevent common boarding accidents.
Man over board cut-off switch.
Lanyard engine kill/stop switch – In September 2004, NASBLA passed the Model Act for all states to adopt a law mandating the use of the Lanyard on boats such equipped.
WHERE DO I LOOK FOR SAFETY TECHNOLOGIES? (To List a few)
Google or other Search Engines for "propeller guards" and view the many different manufacturers and styles of "shrouds."
Maritech Industries (888-755-7767) www.maritechsafety.com for guards and ladder interlocks
www.wirelesslanyard.com for lanyard transmitter to sound an alarm and shut off the engine if an operator or occupant is ejected.
Florida State Nature Conservancy www.floridaconservation.org for a review of technologies.
Engine manufacturer, your boat dealer, or a boating supply store. Chances are, you already have a Lanyard on your boat – Engage it EVERY time.
SECOND LINE OF DEFENSE - BOAT SMART
Now that your boat is equipped with the appropriate safety technologies, the rest is up to you:
THE WARNING LABEL. Make it specific in no uncertain terms: DANGER DEATH DISMEMBERMENT. DO NOT APPROACH THE PROPELLER. DO NOT LEAVE ENGINE IN IDLE WHILE BOARDING OR SWIMMERS ARE IN THE WATER.
PRE-BOARDING INSTRUCTIONS: Establish clear rules for reversing, idling, swim platform activities, boarding ladders and seating.
ASSIGN A RESPONSIBLE ADULT to each child. A child caught in the propeller in the worst heartache one can experience.
GET AN EDUCATION. Thanks for reviewing these program slides. But remember, it is not what you know when you are in the strike zone. It is what you know to keep yourself clear of that zone.
REVIEW COMMON SENSE STANDARD OPERATING PROCEDURES
Do a head count before start up.
Assign a responsible lookout. ** Please keep all 5 together
Assign a seat to each occupant.
Do not bow ride or sit on gunwale, transoms, seatbacks, etc.
Always engage your Lanyard Kill Switch between the Ignition and the Operator's person.
Never start a boat with the engine in gear.
Never board or disembark a boat when the engine is on, i.e. idling. The propeller is still rotating.
Be aware of extreme waters or weather conditions.
Be aware of congested areas and designated swimming zones.
Know how to recognize divers' flags or buoys.
Be smart about high risk activities: water skiing, inner tubing or riding a PWC (the "rapid transit" to a propeller accident)
You deserve what you get if you operate a boat under the influence of alcohol or drugs. But no one else does....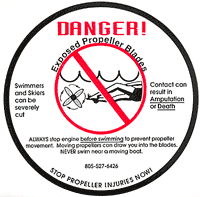 MAN OVER BOARD - PROPELLER SAFETY
Turn the bow of the boat toward the person in the water; keep the prop to the rear.
Slow down, circle around, and keep the individual in sight at all times.
Take the engine out of gear and turn off the engine at least a boat length from the victim.
Tie a line or float and pull the person toward the boat.
Practice this procedure.
Seems like a cake walk until you are in rough waters and under stress, tired, overheated or the man overboard is the most important person in your life.
FIRST LINE OF DEFENSE: INSTALL SAFETY TECHNOLOGIES
100% HUMAN ERROR WOULD MEAN TECHNOLOGY WAS PERFECT. IN FACT, EXISTENT SAFETY TECHNOLOGIES ARE NOT MANDATED NOR REGULATED, SO THE HUMAN FACTOR, WHICH SHOULD BE THE SECOND LINE OF DEFENSE, REMAINS THE FIRST LINE OF BLAME.
SECOND LINE OF DEFENSE: BOAT SMART FROM THE START!!!