2019 USCG Reauthorization bill: mandatory kill switch wear?
The U.S. Coast Guard is reauthorized each year in an annual bill in which some changes may be introduced.
The 2018 USCG reauthorization bill as passed requires engine cut off switches (kill switches to prevent the Circle of Death) be installed in most recreational power boats less than 26 feet in length.
The 2019 USCG reauthorization bill as it has passed the House (HR 3409) required mandatory kill switch wear on recreational power boats less than 26 feet in length when underway if a kill switch is present.
Per the National Marine Manufacturer's Association (NMMA) the bill would also "grant the Coast Guard "equivalency" authority, allowing the Coast Guard to streamline approval of the recreational boating industry construction standards and new technologies, while maintaining the highest level of safety."
Currently, and historically USCG requirements pertaining to boat building and boating safety that are codified into Federal Regulations are sometimes dated (old and no longer represent current practices), plus they may not specially allow the use of more modern technologies that have since become available. It takes considerable effort and time to change Federal Regulations. Plus in the current environment it has become even more challenging. It sounds like this part of the legislation may help with these problems.
This bill will still have to pass through the Senate, likely require being resolved between the two houses, and be signed by the President of the United States.
A copy of the bill is below the image below.
---
Changes Related to Kill Switch Wear
116th Congress
1st Session
H.R. 3409
Section 313
Sec 313.Engine cut-off switches; use requirement
(a)In general
Section 4312 of title 46, United States Code, is amended—
(1)by redesignating subsections (b), (c), and (d) as subsections (c), (d), and (e), respectively; and
(2)by inserting after subsection (a) the following:
(b)Use requirement
(1)In general
An individual operating a covered recreational vessel shall use an engine cut-off switch link while operating on plane or above displacement speed.
(2)Exceptions
The requirement under paragraph (1) shall not apply if—
(A)the main helm of the covered vessel is installed within an enclosed cabin; or
(B)the vessel does not have an engine cut-off switch and is not required to have one under subsection (a).
.
(b)Civil penalty
Section 4311 of title 46, United States Code, is amended by—
(1)redesignating subsections (c), (d), (e), (f), and (g) as subsections (d), (e), (f), (g), and (h), respectively; and
(2)inserting after subsection (b) the following:
(c)A person violating section 4312(b) of this title is liable to the United States Government for a civil penalty of not more than—
(1)$100 for the first offense;
(2)$250 for the second offense; and
(3)$500 for any subsequent offense.
.
(c)Effective date
The amendments made in subsections (a) and (b) shall take effect 90 days after the date of the enactment of this section, unless the Commandant of the Coast Guard, prior to the date that is 90 days after the date of the enactment of this section, determines that the use requirement enacted in subsection (a) would not promote recreational boating safety.
314.Exemptions and equivalents
(a)In general
Section 4305 of title 46, United States Code, is amended—
(1)by striking the heading and inserting the following:
4305.Exemptions and equivalents
;
(2)by inserting (a) Exemptions.— before If the Secretary;
(3)by adding at the end the following:
(b)Equivalents
The Secretary may accept a substitution for associated equipment performance or other safety standards for a recreational vessel if the substitution provides an equivalent level of safety.
.
(b)Clerical amendment
The analysis for chapter 43 of title 46, United States Code, is amended by striking the item relating to section 4305 and inserting the following:
4305. Exemptions and equivalents.
.
---
Some Speculation
We would anticipate considerable resistance from some boaters as they become aware of this bill. Mandatory kill switch wear has some parallels to motorcycle helmet laws. Some bikers see motorcycles as way to experience freedom in a world that seems less free than it used to be. Riding a motorcycle for them is a bit like the last frontier. Many of those bikers see helmet laws as an intrusion on their freedoms. Some boaters will likely see mandatory kill switch wear laws the same way.
We do suggest legislators and the boating industry get the message out that this law has been proposed so those for or in opposition have a chance to express their views. In the past, safety proposals of this nature were generated by the Coast Guard, put out for public comment, and stalled due to opposition.
The Coast Guard National Boating Safety Advisory Council (NBSAC) brought up mandatory kill switch wear at their Spring 1976 meeting. A lot of resistance from both sides has gone under the bridge since then.
As for us, we are glad to see mandatory wear / use of kill switch lanyards has at least been proposed in legislation and look forward to seeing where it goes from here.
Outside of bass tournaments and PWCs, kill switch wear rates are very low. If another 90 plus percent of boat operators were all of a sudden forced to use lanyards many of them will at least try virtual lanyards. We don't need Mr. Wizard to tell us that if mandatory wear did pass, sales of virtual lanyards such as AutoTether, Fell Marine MOB+, Coast Key, and Virtual Lifeline could sky rocket. We could even be seeing ads on TV.
If the bill passes aftermarket companies will be bringing out their own virtual lanyards. We are almost guaranteed to see some low budget ones from Asia.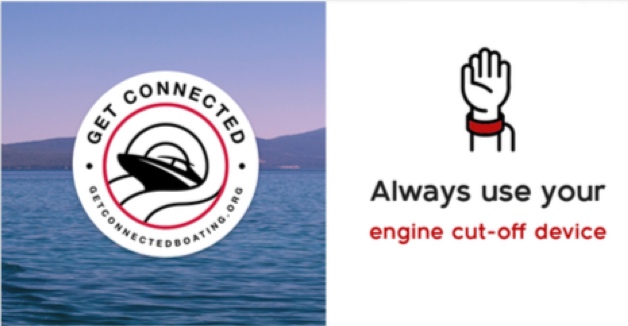 So far, no major marine drive manufacturer is selling their own virtual lanyard. A couple years back Mercury Marine worked out a deal with Fell Marine for sharing some wireless technologies but we have yet to see any devices come from it. If this bill passes maybe we will see a virtual lanyard from that relationship.
On a broader note, if Congress passes this bill major marine drive manufacturers could be bringing out their own virtual lanyards, acquiring virtual lanyard firms or licensing/teaming with them.
We suspect existing virtual lanyard manufacturers to introduce new models, like their device's name plus Gen3 or something like that to attract more attention.
Seems like there are some opportunities for the drive manufacturers to integrate virtual lanyards with their digital CANBus systems. We suspect virtual lanyards will have some new features when that happens.
We look forward to seeing what happens.
---