BARD database search strategies for boat builders paper
We produced a series of videos in an attempt to expose members of the boating industry to the BARD database. We particularly encourage boat builders to use BARD as a tool to monitor post sale accidents involving their boats and use that knowledge to improve the safety of their vessels. Some call this post market or post sale surveillance.
This paper describes methods used in the videos to identifying accidents involving a specific boat builder's vessels in BARD. It also discusses how certain search methods compare with one another in terms of how much effort and skills they require and how successful those search methods might be.
As with our other materials:
This is NOT professional advice. These are educational materials encouraging boat builders to use BARD as part of their post sale safety monitoring program by showing illustrating some of its capabilities. Each boat builder needs to decide how best to utilize BARD in their specific situation.
---
Our Paper on BARD Search Strategies
Full title of paper: U.S. Coast Guard Boating Accident Report Database (BARD) Search Strategies to Identify Boat Accidents Involving Vessels Built by a Specific Boat Builder. By Gary Polson. PropellerSafety.com. Polson Enterprises.
.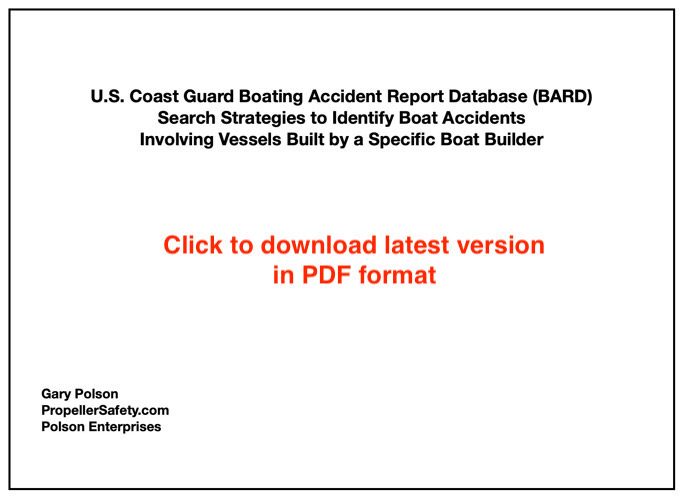 We hope you find this paper helpful in determining how best to proceed.
---
For Assistance
If boat builders need any assistance in using BARD or applying it to their specific situation, please follow the link below. The training videos, worksheets, and other materials are listed there.
If those materials do not answer your questions, please contact us at the Contact Us link in the top menu or we welcome your comments below.
---
U.S. Coast Guard Boat Accident Report Database (BARD) search strategies and methods for boat builders are presented in a paper by Gary Polson of PropellerSafety.com / Polson Enterprises.